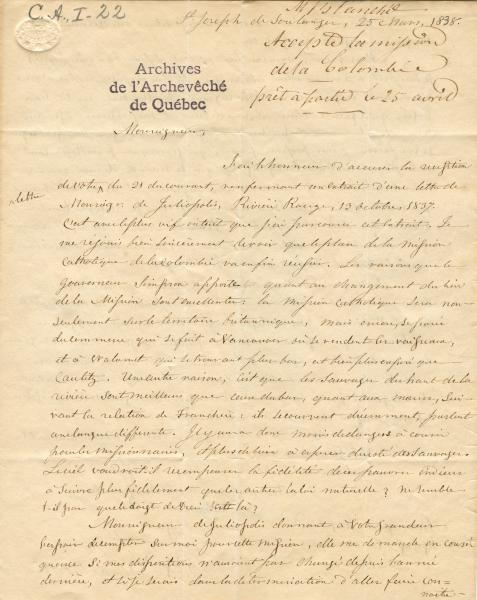 ID # :
0
Pages :
3
Date :
25 mars 1838
Writing location :
St-Joseph de Soulanges
Author :
Curé Blanchet
Biography :
Acceptation de la mission de Colombie
Historical comment
Document manuscript of 3 pages.
At the beginning of the 19th century the diocese of Quebec included the immense British territories to the west of Upper Canada (now Ontario). The North-Western Territory extended to the Rocky Mountains while the territory of Columbia was located between the Rockies and the Pacific Ocean. In 1818 the first missionaries were sent north-west to the Red River mission (in what is now Manitoba). This mission was raised to the rank of Episcopal See in 1820 and Father Joseph-Norbert Provencher was named auxiliary bishop and vicar-general to the bishop of Quebec Monseigneur Plessis. The North-Western district was erected to a vicariate Apostolic in 1844.
As for the territory of Columbia in November 1838 after a long and dangerous voyage Fathers Norbert Blanchet and Modeste Demers arrived at Fort Vancouver. Bishop of Quebec Monseigneur Joseph Signay had called upon them to bring the faith to the Aboriginals and serve the small French population particularly former or current employees of the Hudson's Bay Company. The immense territory which included the current states of Oregon and Washington as well as British Columbia and the Yukon was erected to a vicariate Apostolic in 1843 and then to a bishopric in 1846.
Here then were the early stages of the Catholic religion's establishment in the Canadian West. Later the Oblates of Mary Immaculate would be called in to help and would form the majority of this region's priests and missionaries. They would have a significant impact on both the francophone population and the Aboriginals.
Lettre d'acception de F.N. Blanchet pour une mission en Colombie anglaise 1838;
AAQ 36 CN 1 papier 24 x 19 cm
Examine the document