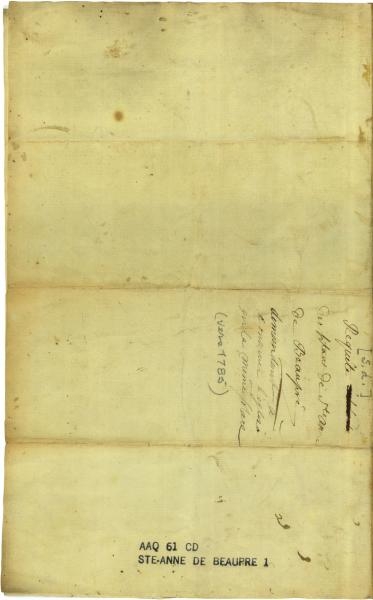 ID # :
0
Pages :
4
Date :
vers 1785
Writing location :
Sainte-Anne-de-Beaupré
Author :
Plusieurs habitants de la paroisse Sainte-Anne-de-Beaupré/ Several residents of the Sainte-Anne-de-Beaupré parish
Biography :
Request of the residents of Sainte-Anne-de-Beaupré [to keep the church in the same location]
Historical comment
Three-page manuscript.
The first Canadian parish Notre-Dame-de-Québec was officially erected in 1664. After this date parishes were created gradually as residents of a region became numerous enough to support a priest; at the end of the French regime there were more than one hundred parishes. After 1760 the British government recognized the importance of parishes as management tools. Some 70 new parishes were established between the Conquest and the 1820s even if the Church could not make their creation official.
Since the early days of the colony parishes were often established following requests from residents and these residents were often involved in building the church and presbytery so the population identified with its parish. That explains why Canadians reacted strongly when the bishop tried to redefine a parish's boundaries or change the site of a church. In the rural geography of ancient Quebec the church was the heart of the village: moving a church and its outbuildings (the presbytery and the cemetery) meant refounding the village space.
Around 1785 the residents of the Sainte-Anne-de-Beaupré parish complained that they were being asked to move their church which would result in costs and work that was barely finished at a time when poverty was extreme and the parish had few resources. They wrote this touching letter to the bishop to ask him to reconsider his decision. Twenty-seven people signed the document with a cross including the captain of the militia François Lessard his second Joseph Jillière and two churchwardens Ignace Caron and Louis Noyer. The church was replaced only in 1876 which seems to indicate that the arguments of the parishioners were successful.
Source :
Archives de l'Archidiocèse de Québec :
Lettre de requête des habitants de Ste-Anne-de-Beaupré vers 1785. AAQ 61 CD Ste-Anne-de-Beaupré I : 104.
Examine the document