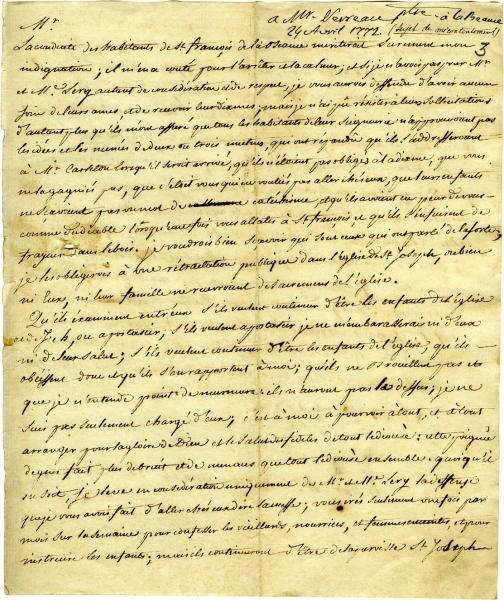 ID # :
0
Pages :
2
Date :
24 avril 1772
Writing location :
Québec
Author :
Mgr Jean-Olivier Briand évêque de Québec
Biography :
Letter from Monseigneur Briand Bishop of Quebec to Monsieur Verreau priest at Beauce
Historical comment
Two-page manuscript.
Throughout the period of New France the bishop worked together with the French government to supervise the population. He had jurisdiction over the churches and parishes as well as the religious communities. On several occasions the bishop attacked the immorality of the inhabitants. For instance he criticized them for supplying the Aboriginals with brandy.
Despite the regime change in 1760 the bishop kept his power under the British government. The Catholic Church however experienced difficulties related to lack of financing (French subsidies ended and there were legal complications to forcing parishioners to pay tithe before 1775) the difficulty recruiting new priests with an aging clergy whose numbers were diminishing after the Conquest and the precarious position of the church with respect to the new British and Anglican rulers. Monseigneur Briand vicar-general and then bishop from 1766 to 1784 advocated respect and reconciliation with the British government to allow the Catholic Church to survive in Canada. He also tried to tightly govern the population which he found more restless since the Conquest.
In the letter presented here the content of which Father Jean-Marie Verreau had to convey to the entire parish population the bishop severely criticizes the conduct of Saint-François de Beauce residents who were not happy with their priest and were asking for a church. The Saint-François parishioners did not want to pay for a priest who did not reside in their parish and asked the bishop to remove the restriction. He did not give in to their threat of writing to Governor Carleton; he told them to apostatize if they were unhappy. Otherwise they were to "be obedient and rely on me."
Sources :
Archives de l'Archidiocèse de Québec :
Mgr J. Ol. Briand évêque de Québec lève l'interdit contre l'église de St-François de Beauce 24 avril 1772. Ms. 2 p. AAQ 61 CD Beauceville I : 3
Examine the document