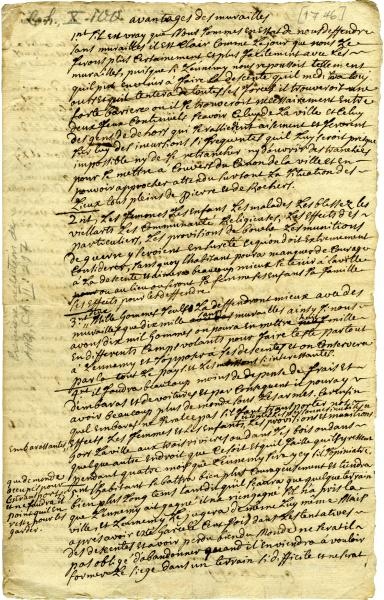 ID # :
0
Pages :
7
Date :
1746
Writing location :
Québec
Author :
Regroupement de citoyens/Group of citizens
Biography :
Advantages of walls
Historical comment
Five-page manuscript.
In 1740 after about thirty years of peace that allowed the colony of New France to develop the War of the Austrian Succession began in Europe. The confrontations made their way to America and culminated in the English laying siege to and then taking Louisbourg on June 17 1745.
Fear that the English would attack Quebec the next year led the governor along with the city's citizens to hold an assembly and decide to surround the city with fortifications. The king of France however found the costs of this enterprise too high and ordered that either the existing fortifications be demolished or the colony assume the costs for continuing the work by implementing a tax. The bishop at this time Monseigneur de Pontbriand proposed the levy of a special tax on intoxicating drinks to offset the costs. This suggestion was retained and implemented in 1747; the fortifications could then be finished. Since there were no property or income taxes in New France contrary to what was in place in France the colonial administration had to use other types of contributions such as in this case special taxes that affected cities. Most often duties (road construction and maintenance billeting of soldiers with residents etc.) ordinary deductions (seigneurial tithes levies and privileges) or extraordinary deductions (wheat or cattle requisitions during times of war) were what the colonial population faced.
The anonymous document reproduced in this exhibit surely dictated by the chapter's canons—i.e. the bishop's council—addresses the "advantages of walls" and the "dangers risked if there are no walls." The transcriber noted what the chapter's voices said to him. This text explains why it is important to build walls around Quebec City to ensure its defence. It asks for the work to continue instead of being demolished: "This is the safest option and the one we must take when what is at stake are the lives of so many men and of an entire Colony." However it considers the fact that the colony's residents were not financially participating in this project to be shameful: "It would not be fair for the people of the old France to pay the huge expenses of the new."
Examine the document