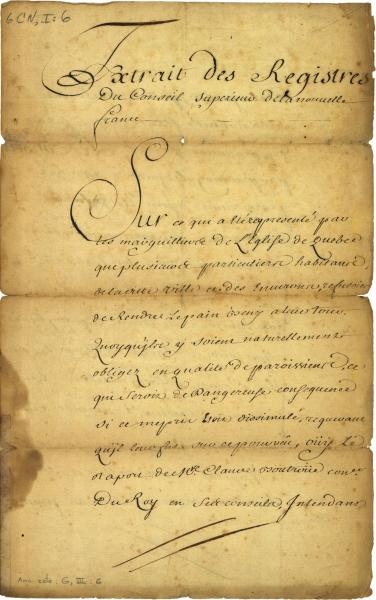 ID # :
0
Pages :
4
Date :
13 janvier 1670
Writing location :
Ville de Québec
Author :
Conseil Souverain de la Nouvelle-France/Sovereign Council of New France
Biography :
Ruling of the Sovereign Council on the matter of blessed bread
Historical comment
Three-page manuscript.
The residents of New France parishes had to pay their priest a tithe 1/26th of harvested products. They also had to help build or renovate the church pay pew rent pay for the sacraments and special masses and finally offer the blessed bread.
The latter is bread provided by a parish resident. It is then blessed by the priest celebrating mass and distributed in church to the faithful. As Bishop Saint-Vallier said in his catechism the blessed bread represents "the union of faith the participation in sacrifice and the mutual charity that must be present in Christians." The tradition of distributing blessed bread during certain religious celebrations and ceremonies continued in Canada until the second half of the 19th century.
All parishioners had to take turns offering the blessed bread. In the January 13 1670 ruling presented here some parishioners of Quebec City and its surrounding areas clearly refused to offer or "give" the blessed bread when their turn came. The Sovereign Council ordered them to do so or be fined.
In 1670 few parishes were officially instituted even though there were several chapels or services around Quebec. For instance the residents of Côte de Beaupré downstream of Quebec City already had more than one church with registers in the 1660s (Ange-Gardien Château-Richer Sainte-Anne-de-Beaupré) but these three parishes were not erected until 1678. So one wonders if certain residents of Quebec City's "surrounding areas" were less inclined to contribute to a church in the Notre-Dame-de-Québec parish (erected in 1664) that they were not or were no longer attending.
Examine the document